Slime Volleyball feat Neural AI
A true-hearted remake of the classic Slime Volleyball.
Cheeky Neural AI is beating humans and getting better at the game! If we don't stop it here, it will rule us pretty soon. In-game stats show how many matches the AI has won vs humans.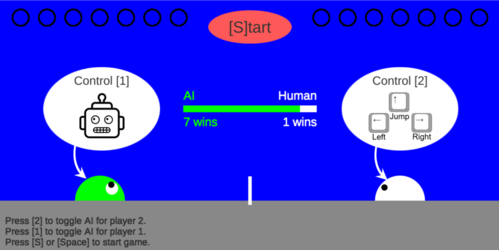 You can play with your friend like the good ol' days.

Originally developed by Quin Pendragon (Fractoid) / Daniel Wedge (Wedgey) for Java 10+ years ago (oneslime.net).

I don't want to take credit for other people's work. I enjoyed playing this game back in the day at school. This remake is a side project to bring the nostalgic fun back since the original version doesn't work anymore... well unless you want to enable java applets in your browser.
Hope you enjoy playing this game! If you do please consider supporting me.

No Such Studio's Socials:
Patreon: @nosuchstudio
IG: @no_such_studio
Medium: @nosuchstudio